4-36-21. H. Poincaré to Giovanni Battista Guccia
[16.11.1903]11endnote: 1 The manuscript bears an annotation by an unknown hand: "Paris, 16/11/03."
Deux des figures ne peuvent être supprimées; je les ai refaites et je les ai portées chez Hermann.22endnote: 2 Poincaré (1904). Poincaré offered his latest article on Analysis situs for publication in the Rendiconti in a previous letter; see Poincaré to Guccia, ca. 3 Nov., 1903 (§ 4-36-19). The Parisian publishing house of Hermann produced illustrations fit for publication from Poincaré's sketches.
Une troisième figure celle qui est à peu près comme ceci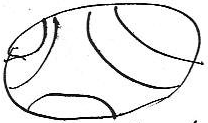 peut être supprimée mais à la condition de remanier profondément le texte; je le ferai si vous le voulez bien, sur le placard ou sur les épreuves quand vous me les enverrez.
ALS 2p. Archives, Circolo matematico di Palermo.
Time-stamp: "22.08.2023 17:20"
Notes
1

The manuscript bears an annotation by an unknown hand: "Paris, 16/11/03."